10x20 SPORTS BACKDROPS
WRINKLE RESISTANT LIGHT WEIGHT 10X20 FT CLOTH BACKGROUNDS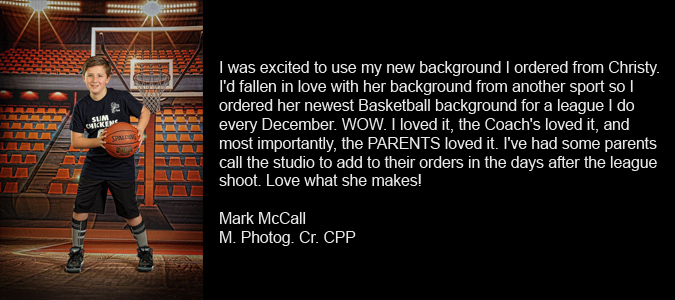 Our realistic backdrops are creatively and expertly designed specifically for team & individual sports photographers.
READ THROUGH ALL OF THESE GREAT REASONS TO USE BACKDROPS FOR T&I WORK:
Using actual backdrops puts MORE MONEY in your pocket!! Many photographers have had to resort to the time consuming and costly task of extracting their players to composite them on to digital backgrounds with cool graphics in order to provide more value to their customer. This can be great for small high school teams but not wise for a little league of 500 kids! Photographing on a great, realistic looking backdrop gives you faster turn around, saves you money and gets parents excited about the pictures.
Backdrops are WRINKLE AND TEAR RESISTANT, giving you a product that can withstand the torment it will receive when hundreds of kids trample across them on picture day.
WEATHER - Realistic sports themed backdrops give you the luxury of photographing your clients INDOORS with AIR CONDITIONING! No more WIND wreaking havoc on your subjects hair and if your in a windy state you know what wind can do to your lights, tents and displays. No more SCHEDULING NIGHTMARES due to RAIN OUTS. No more SQUINTY EYES due to blaring sun.
As you can see in the picture example below, photographing indoors also gives you CONSISTENCY in exposure and color balance eliminating EDITING NIGHTMARES.
Shooting outdoors often forces you to be stuck in a less than ideal location where there may be dead grass or objects creating HARSH SHADOWS or having to contend with people entering the frame in the background behind your subject. Shooting indoors gives you CONTROL over all of that!
One great benefit could be the potential to introduce hundreds of clients to YOUR STUDIO! If you don't have a studio consider renting a TOWN HALL or COMMUNITY CENTER or partnering with another business. You can still put up more displays than you could outdoors and you can pay for it with the money you would have paid someone to hold your light stands all day.
10x20 backdrops give you the ability to shoot FULL LENGTH pictures showing off the ENTIRE UNIFORM including those $125 basketball shoes dad bought! Parents love this and it's a great selling point.
Each backdrop has been uniquely designed by a certified professional photographer.
If you would like to inquire about getting a backdrop custom made for a sport not shown, or would like a specific field or location to be made into a backdrop specifically for your client please call (817-507-7315). Note: Price may change according to request. To order a backdrop please click on the link: http://snap1studios.com/store/ti-backdrops
Thank you for your interest!